I heard about Marc-Andre Fleury before I saw him. Literally, I heard thousands of fans chanting his name before I had seen him play.
In October 2003, I was driving back to my home at the time, Duquesne University in Pittsburgh, which sits atop a hill about three city blocks from the former site of Mellon Arena. I was listening to the Pittsburgh Penguins' radio broadcast of a preseason game versus the Los Angeles Kings.
People from Pittsburgh will be able to visualize: I was coming from I-579N, getting off at the Sixth Street exit and heading toward Fifth Avenue. You come off the exit ramp, drive around a bend to a traffic light, and you're staring straight at the parking lot where the Civic Arena used to be.
I'm listening to the radio broadcast of the game, and the Pens were predictably losing 2-0 to the Los Angeles Kings, but the 2003 Penguins losing wasn't newsworthy. The story was that the Penguins' not-yet-19-year old goaltender was making his NHL debut.
I'll get to back to what this meant to the franchise in a moment, but this is why this game will forever be seared into my brain:
During a Hockey game, fans make a number of very distinct sounds when certain plays happen. Even a diminished home crowd such as the one that watched this October 2003 preseason game makes these noises.
If the home team almost scores -especially if they whiff on an empty net, or the puck trickles through the away team's crease – the sound the crowd makes is more of an "OHHH!", as if to say "Dammit, we were so close," or "Aw, shit".
When the home team's goaltender makes a great save, the home crowd makes more of an "AHHH!" sound. It's nervous relief combined with wonder.
I stopped at the red light in front of the Civic Arena, about to turn right to go toward Duquesne, and I'm listening to the game. I swear to God, the "AHHH!" noises coming from inside the Civic/Mellon Arena were louder than the radio broadcast in my car. I could hear the crowd as clear as day appreciating the franchise's newest teenage savior.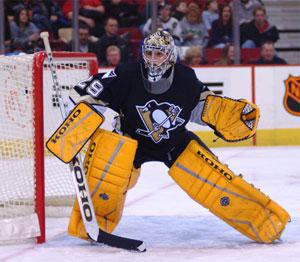 There probably weren't 5,000 people in the arena for that preseason game, which the Pens would go on to lose 3-0. Marc made 46 saves behind one of the worst rosters in contemporary NHL history. Here's CBC's recap of the game, if you didn't click on the link above:
Pittsburgh Penguins goaltender Marc-Andre Fleury did everything in his NHL debut — except get the win.

The 18-year-old netminder stopped 46 shots, including a penalty shot, in a 3-0 loss to the Los Angeles Kings on Friday night at the Igloo.

Eric Belanger, Trent Klatt and Zigmund Palffy scored for the Kings, who were coming off a 3-2 loss to Detroit on Thursday night. Palffy and Klatt added assists in the win.

Cristobal Huet had a much easier time in the other goal, making 11 saves for his second career shutout.

Fleury, the first overall pick in June's NHL entry draft, was spectacular between the pipes for the Pens, but was saddled with the burden of seven Kings power plays.
And that's been much of Marc's story in Pittsburgh: he has often played exceptionally-well behind an atrocious or indifferent defense, and his efforts would largely be forgotten or underappreciated.
A lot of people who jumped on the Penguins' bandwagon in 2013 or whenever have no idea what Marc has meant to the franchise. He was Hope at a time in which the franchise had none, with the team having recently parted out players like Alex Kovalev and Marty Straka while the specter of Relocation loomed large.
The 2003-04 season was the lowest point in 20 years for the Penguins, dating back to the season before Mario was drafted, and prior to Sid Crosby and Evgeni Malkin, Marc-Andre Fleury was the light at the end of the tunnel signalling a better future.
I'm here to educate all of the newer and fair-weather fans: the franchise has been blessed to have drafted Marc-Andre Fleury. He's been everything Penguins fans could have reasonably expected and more.
I'm not a naive fan. I recognize that Marc's time in Pittsburgh is quickly coming to an end. The fourteen years since the team took him out of Cape Breton have flown by, and like Marc himself, I wish there was a way to keep him in Pittsburgh for the duration of his playing career. But the writing appears to be on the wall, for as I write this Matt Murray is set to start his 6th consecutive game for the team and has seemingly cemented his place as the team's starting goaltender moving forward.
But there are so many fans, both educated and otherwise, who can't wait to see the team cut ties with Marc Fleury, as though he's some albatross. Penguins fans and NHL trade-deadline junkies alike can't come up with enough circle-jerk scenarios that land Flower on a Western Conference pretender in exchange for a top-flight defenseman or winger and a cascade of Cap Space.
I'll tell these groups two things right now: there isn't a player that the Penguins are going to get back who is going to be more-impactful than Marc. And the Penguins absolutely cannot get back a better human being or teammate.
Marc has watched Matt Murray, correctly or incorrectly, wrestle his job from him. And by all accounts, he has been as positive and supportive as one could reasonably expect.
Is Marc pleased that some snot-nosed 21-year old punk has taken his position as the team's top goaltender, just as the franchise for which he's toiled under is experiencing a rebirth under Jim Rutherford and Mike Sullivan? Fuck no. Marc is very highly-competitive, even by the standards of a professional athlete. But I'll get back to all of this at the end of the article.
I want to write a bit about all of the misconceptions related to Marc Fleury, as I feel he's taken a disproportionate amount of criticism for the team's underwhelming playoff performances between 2010 and 2016.
Let's start with the one-the-nose stuff, since Flower's critics tend to be obtuse and thicker than wet cement:
The Penguins were still the underdog when they played the Detroit Red Wings for a second time in the 2009 Stanley Cup Final. Advanced stats geeks will tell you that the 2007-2009 Red Wings were a generational possession juggernaut.
The Red Wings took a 2-0 lead in the 2009 Stanley Cup Final. Flower defiantly told the assembled media in Detroit following Game 2 that the series was nowhere near over. Then Pittsburgh, with Flower in goal, beat Detroit four out of five times. To cap it off, Marc made one of the best saves in Stanley Cup Final history:
That's Marc making a dead-to-rights save on Nick Lidstrom – Detroit's Best Player, Captain, and Reigning Norris Trophy Winner – in the waning seconds of a Game 7.
For all the praise someone like Patrick Roy gets for being a Money Goaltender, I challenge anyone to come up with a more-clutch scenario. The opponent's best player has the puck on his stick, with a point-blank opportunity in the final seconds of Game 7 of a hotly-contested, rematch Cup Final. If I wrote that as Fiction, it would be derided as being too unrealistic.
And that's not to denigrate Patrick Roy. He was great. But Marc Fleury has also been great. Lots of great goaltenders – Hank Lundqvist, Braden Holtby, and Carey Price, to name a few – can go their entire careers without winning or even appearing in a Cup Final.
It sometimes seems like endless bouquets, probably rightfully so, are thrown at certain goalies for their excellence in the regular season. Lundqvist is a key example. But when their teams fall short in the postseason, the shortcomings are perceived to be those of the team rather than a fantastic goaltender's inability to win in a clutch situation.
Marc has won a Cup, appeared in another, and positioned his team to win a third. The guy has flat-out won a ton of games, playoff and regular-season alike. And that's a big reason why he's my favorite.
Marc is no different than any other NHL starting goaltender, except that maybe his highs are higher and his lows are lower. Unfortunately, his ten-bell robberies don't earn him any more credit than routine stops from the outside, and that has been the basis of his criticism.
Every goaltender lets in bad goals, and admittedly Marc probably lets in as many as any NHL goaltender. These are the best players in the world competing against each other, and sometimes someone is going to the shorter end of the stick. But Marc also makes saves that no one else can. Like this one. And this one. And all of these.
In 2017, Marc Fleury is maybe too athletic for his position. Contemporary Goaltending has become extremely economical and positional, and in this regard many NHL goalies (including Matt Murray) are better than Marc. The modern NHL is a league in which five players help clog shooting lanes, with the goaltender minimizing movement. Marc has matured a great deal in this regard and become a better positional goaltender, but this is and never was his forte.
In fact, had he come into the League five years earlier, I suspect Flower would be viewed much-more favorably by casual fans and the at-large media. As an example, Marty Brodeur won the 2004 Vezina Trophy with a Save Percentage of .917, which would be a decent or even below-average year for Flower. Meanwhile in 2016, the three Vezina finalists had Save Percentages of .922, .930, and .933, respectively.
This again isn't to denigrate Marty Brodeur, but to point out how expectations and the position have fundamentally changed. 2004 Vezina Winner and nailed-on Hall of Famer Marty Brodeur would be a statistically below-average starting goaltender in 2017. Marc has not only kept up but improved greatly as a goaltender, and still the expectations for excellence have surpassed his statistical performance.
But Marc has been very good, and it seems like most people look to poke holes in his overall performance rather than celebrate his accomplishments.
To wit, much of the national media likes to cherry-pick Marc's worst moments, such as his ill-conceived forays out of his net and the 2012 playoff flame-out against the Philadelphia Flyers. They haven't watched him game-in, game-out every year like I have, and the outside perception is that he's this head-case that has single-handily prevented the Crosby-era Penguins from ringing off a fistful of consecutive Cup runs.
Winning One Stanley Cup Championship, or even appearing in one Cup Final, is unfathomably difficult. But it's the annual expectation of the Pittsburgh Penguins management, ownership, and fan base, not to mention intrigued outsiders. And that expectation has created a negative misconception relative to what Marc Fleury has helped his teams accomplish.
On the other hand, Marc gets relatively-little credit for reinventing his game at the onset of the 2014 season, and carrying his team through the dying days of Disco Dan Bylsma and the regrettable Mike Johnston era.
I'll take a moment to specifically address the 2012 playoff series against Philadelphia:
I had just moved to Wilmington, NC from Pittsburgh, and I didn't have a ton going on in my life socially at the time. So I watched every minute of that series like a hawk, and Marc inarguably let in some bad goals. But that was a team-wide collapse for which Marc has taken undue criticism.
The Penguins coach, Dan Bylsma, let the Flyers drag his high-flying skill squad into the mud. The Flyers were able to dictate the tone of the series, getting the Penguins away from the dominant, record-setting 5-on-5 possession game they had played for most of the season and turning the series into a penalty-filled Special Teams battle. Credit to Philadelphia for taking the wheel, but shame on Dan Bylsma for not getting a handle on his team or adjusting his tactics in any way.
As I write this, Dan Bylsma, who I like and respect, is struggling to keep his team competitive in Buffalo. He would kill to have Marc Fleury playing goal for him.
A number of Penguins' players – notably Chris Kunitz, Kris Letang, Aaron Asham, James Neal, and the basically-useless Craig Adams – lost their damned minds during that 2012 series, taking a ton of unnecessary penalties and putting their goaltender in a position to fail. If you read the Box Scores from the series, it reads a lot more like a team that emotionally-collapsed rather than a goaltender who self-immolated.
The defense didn't do great work, it should go without saying. Kris Letang didn't help matters by spending the bulk of the series in the Penalty Box and forcing Matt Niskanen to pick up his slack. Paul Martin was injured for half of the series and diminished when he was available. Deryk Engelland played to his capabilities, but he absolutely should not have been in the top-6 of a team with Cup aspirations.
And since we're talking about it, let's re-examine Ray Shero's role in orchestrating this nightmare scenario. He girded up his fourth line with the likes of Adams, Asham, and Joe Vitale, a collective possession black-hole at the NHL level. His absurd strategy of having Sid/Geno/Staal/Neal account for 80% of the scoring looks worse with each passing day. He took a Pittsburgh Penguins "soul" and wrapped a Philadelphia Flyers shell around it, and a consequence was the 2012 series loss to the Flyers.
I like Ray Shero, and I supported him for a long time. But as I write this, he currently has his New Jersey Devils team dead-last in the Eastern Conference. I would argue that the nucleus of Sid, Geno, Jordan Staal, and Flower won in-spite of Ray's roster-building as much as they benefited from it.
Marc certainly played his part in the Penguins' 2012 playoff loss. Eight goals against in back-to-back games is horrid. But that was a team-wide collapse, barring a few exceptions (Malkin, Niskanen, Jordan Staal) that Marc has taken disproportionate blame for.
You can watch this preposterous series compilation and form your own opinion. But I think a lot of people, including his coach and general manager, scapegoated Marc pretty unfairly.
Marc got yanked again after Game 4 of the 2013 Eastern Quarterfinals, as the organizational slant was to blame Flower for being psychologically-frail rather than look at Bylsma's inability to adjust his tactics or Shero's decision to disrupt chemistry and over-stuff the roster with aging, plodding veterans like Doug Murray and Brenden Morrow (note: the Jarome Iginla trade was still a great one).
With Marc mostly watching from the bench, I unfortunately have to remind Penguins fans that the team got absolutely taken to the wood-shed by the Boston Bruins, getting shut-out in the 2013 Eastern Final. If that's not an indictment of the coach's inability to adapt, rather than a goaltender who barely played, then I don't know what is.
Those two playoff series are the basis upon which the national media has built much of their Marc Fleury narrative. The narrative seems to be that Marc Fleury is a playoff choker and a mental case, but the truth is that he owns two Cup Rings and has won nine playoff series behind an often-porous defense and frequently over-matched coaches in Bylsma and Johnston.
The national media rarely mentions that Flower nearly stole a 2013 series against Tampa Bay – Sid and Geno were both out with injuries, Mark Letestu centered the 1st line, and James Neal had one goal in 20-odd games for Pittsburgh – or that his composure prevented the Columbus Blue Jackets from upsetting the 2014 team in the 1st round.
Most national pundits acknowledge that the Penguins lost to a greatly-superior Rangers team in the 2015 Eastern Quarterfinal, but Flower receives little credit for keeping the punchless Penguins in the series. The Penguins – the damn Pittsburgh Penguins, they of the myriad all-star forwards and scoring titles – meekly bowed out after one win and four 2-1 losses. Marc put up a .927 Save Percentage, and while Hank Lundqvist outplayed him, barely, the Penguins didn't put enough pucks past Lundqvist for it to merit discussion.
Mike Johnston and his Junior Hockey systems nearly drained the life from the franchise, but Marc Fleury's steady play allowed the team to maintain a modicum of respect. Marc put up a .921 Save Percentage in 2014-15, holding the fort while Johnston's inane system and the team's lack of puck-moving defensemen crippled the offense.
Smarter fans and followers will remember that the Penguins almost missed the playoffs in 2014, and needing a win on the last day of the season, Marc put up a Shutout in Buffalo behind five defensemen.
Something very similar happened in 2015-16, in which Marc put up a .920 Save Percentage for the season and banked much-needed victories until the Mike Johnston era mercifully came to an end. The 2015-16 Penguins simply do not win the Stanley Cup without Marc's regular-season performance. This fact frequently gets swept aside by critics of Marc and proponents of Matt Murray.
If I really thought about it, I could come up with dozens upon dozens of games in which Flower was a standout for the franchise. Like I wrote at the top of the article, I've seen the bulk of them as they unfolded live, and frankly Fleury has had too many stellar performances to remember. But I'll include some more of those at a later date.
The advanced stats crowd – for whom my contempt grows by the day – loves to cite statistics such as "Expected Goals Against/60" as their argument for why Marc Fleury isn't a quality NHL netminder. I would take such statistics much more seriously if the geeks espousing them had ever played a meaningful hockey game, but more often than not that's not the case.
The statistic that supporters of Marc such as myself will cite is Wins, a statistic in which Marc currently sits 17th in the history of the NHL and could easily jump to 13th with more routine work. If he starts three or four more years for a playoff-caliber team, Marc could crack the top-5 of all-time.
Flower's detractors take a basic, dense stance on this matter, which is that the gaudy Wins total is a result of the teams in front him while the inconsistent individual stats are solely Marc's fault. These detractors are typically the nerds who want to distill Hockey down to a something you can completely interpret with algorithms and spreadsheets. These detractors usually want to suggest that the juggernaut Penguins of the last decade would have won all of those games with any jamoke beer-league goaltender backstopping them.
But Hockey People – the real, knowledgeable ones, like Pens GM Jim Rutherford – will tell you that you win and lose as a team, and that certain attributes can't be quantified. I'll argue all day that the Penguins' fast-and-loose style of play – combined with Marc's baptism-by-fire behind the atrocious 2003-04 and 2005-06 Penguins – have suppressed his personal statistics to a large degree. If you throw out his first several years in the League, Marc's career Goals Against and Save Percentage look a lot better.
Marc-Andre Fleury has always been the ultimate teammate, and that more than his personal statistics will be his legacy in Pitttsburgh. That and the two large pieces of silver hardware for which he is directly responsible.
When someone like Steve Yzerman or Jonathan Toews sacrifices his personal statistics for the good of the team, it's seen as commendable or even noble. And that's what Marc Fleury has done for the bulk of his career: he's put his team in front of himself, and I challenge anyone to argue otherwise.
Not to keep picking on Jonathan Toews, but if Joel Quenneville reduced his playing time to ten minutes a night – or even made him a regular healthy scratch – I wonder if he would accept a role reduction as gracefully as Flower has. Some are going to fail to see my comparison, but it's apt.
It's a team sport, and Wins are the ultimate statistic. It's about time that Marc was applauded for his huge Win totals, rather than seen as a replaceable cog on the Crosby-era Penguins teams. Maybe after he's playing and climbing the All-Time Wins list for another NHL team, people – Pittsburghers, especially – will have a greater appreciation for how fantastic his career has been.
I think the biggest thing working against Marc Fleury the player is that he's a normal, happy human being. He understands that Hockey is just a game, and he likes to have fun. He has a better overall perspective on Life and the sport's place within it, and it ends up undercutting him in a way as a competitor.
A lot of hockey players aren't like this. I'm not like this. Sid Crosby isn't like this, and Matt Murray isn't like this.
Based on what I've seen from Matt Murray, he has a huge chip on his shoulder. He quietly fumes, smoldering and never lacking for motivation. And I like that in a player, too. I think what fuels Matt Murray is being overlooked as a fourth-round pick and a relative afterthought. He's spent his entire career taking jobs from pedigree guys like Marc Fleury, a former 1st Overall and foundation piece of the team. Again, full credit to Matt Murray for creating an opportunity for himself. I'm very glad he's a Pittsburgh Penguin.
I also can't deny the evidence – the eye-test, as well as some of the advanced and traditional statistics – many of which indicate that the team plays significantly better in front of Matt Murray than Marc Fleury. I sometimes scream at the Pens' defensemen for the apathy they appear to show, watching mouths agape after firing a perfect one-time pass in the slot to an opposing forward for an easy goal.
For whatever reason, the team often plays to the tune of Ringling Brothers music when Marc is in net, yet they look like a sure-fire bet to repeat as 2017 Cup Champs in front of Matt Murray. I can't fully explain it, but it's certainly there. I don't begrudge Matt Murray for taking the ball and running with it, and I think Mike Sullivan has handled a very difficult situation as well as he possibly could. But circumstances are forcing Jim Rutherford to make a very hard decision.
It's possible, if not probable, that Marc-Andre will be traded by the time you read this. As I write this, the NHL Trade Deadline is looming, and the rumor mill is churning loudly. The situation is becoming untenable, as Flower is (understandably) antsy to play and Murray is entrenching himself into the team's fabric. If a reasonable trade scenario presents itself, Jim Rutherford will probably pull the trigger. And Marc-Andre Fleury's 14 years with the team will end overnight.
I have a dream scenario in which the Penguins repeat as Cup Champs in 2017, and Marc plays a pivotal role. And I don't want that for me. I want that for Marc, because he's been the ultimate good soldier. Short of that, I hope Marc gets dealt to a Western Conference contender, and I hope he has a chance to prove to both Penguins and NHL fans once-and-for-all that he's an elite, generational NHL goaltender.
Time will tell. But whatever team employs Marc-Andre in the future will have a first-rate human being in their fold, and a dynamite goalie to boot. It's disheartening that it's not likely to be Pittsburgh.
This has been a long article, but Marc's had a long career as a Pittsburgh Penguin, and too many people need to know how terrific he's been for the organization on multiple levels. For his humor, his selflessness, his uniqueness, and his massive contributions to revitalizing the Pittsburgh Penguins, Marc-Andre Fleury, the Flower, is my favorite goaltender, wherever he happens to play.